Decorative Concrete Flatwork
One of the industry's most commonly used hardscape material; concrete is available in multiple colors, textures, and finishes that can be custom tailored to fit the theme of any project. Well versed in the latest trend finishes such as sand-finish, trowel, and polish concrete flatwork finishes, Or.concrete, Inc. can help your project achieve the look you want with a solution to your decorative concrete needs.
In addition to modern decorative flatwork, decorative concrete has gone vertical, with the use of popular board-formed and smooth faced structural and non-structural decorative concrete walls you'll find in the landscapes of many of Central Oregon's most prestigious neighborhoods and areas such as , Tartan Druim, Tetherow, Hosmer Lake Dr., The Highlands of Broken Top, Brasada, Awbrey Butte, and Caldera Springs. Take a drive and find many examples of what OR.Concrete's produced in the last decade.
Decorative Concrete flatwork can be finished in a variety of surfaces: Sand-Finish, Exposed Aggregate, Stamped Concrete, Broom finish, Trowel finish and Polished.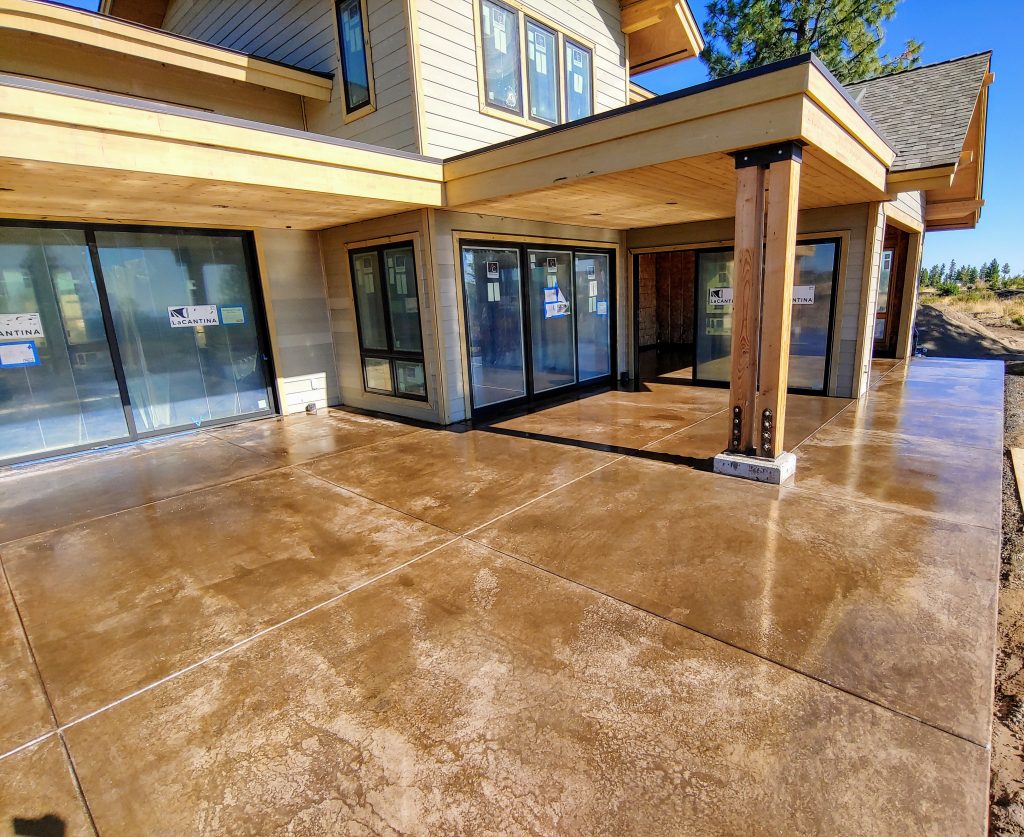 Stamped and Stained
Stamped concrete is a great way to add texture, proven patterns such as the random slate add a great natural look when stained, antiqued, and sealed with a color enhancing sealer!.
Exposed Aggregate
Exposed Aggregate is a rough surface finish that is typical of tradition in concrete finishes. Great slip resistance and a true classic.
Broom Finish
Classic, traditional, and timeless! A classic commercial choice when wanting a surface that is highly slip resistant, holds up well to high traffic, and is weather resistant!
Trowel Finish
Trowel finished concrete. Typically found on interior slab floors, exterior trowel finished are gaining in popularity in todays builds. Simple, modern, and clean.
Sand Finish
Sand Finished concrete is a fine but noticeable texture for your concrete surface. Achieved through washing varying amounts from the top surface of the concrete after curing, we can offer different grades of sand finish to your preference.
Polished Concrete
Polished concrete is an industrial concrete surface that is elegant, durable, and low-maintenance home in both commercial and Residential builds.