Modern Outdoor Living
As Pacific Northwest residents, many of us share a common passion and appreciation for the outdoors. In an effort to bring what we love close to us, many innovative architects in recent history have incorporated landscape designs into their projects that have allowed functional living spaces such as kitchens and guest entertainment areas to enjoy the outside experience of our homes.
Or.concrete, Inc. specializes in specialty form systems, such as the RJD tension rod system used for forming decorative rough sawn cedar board-formed retaining walls and provides an expert level of board-formed concrete services to suit our builders needs.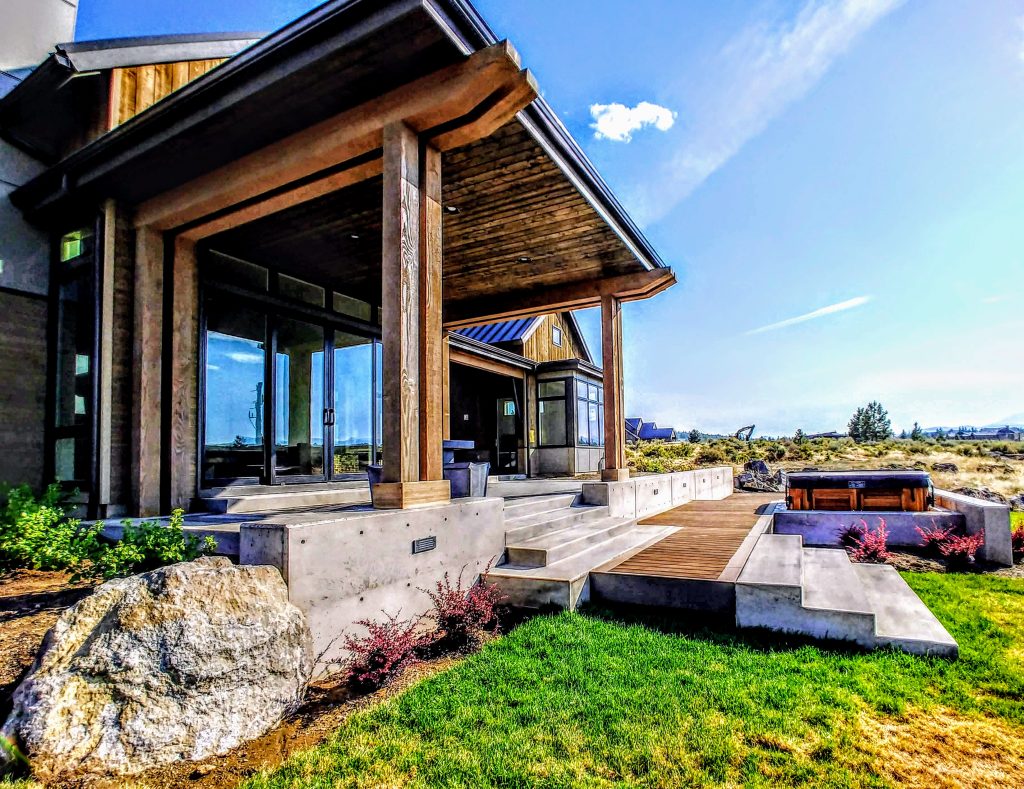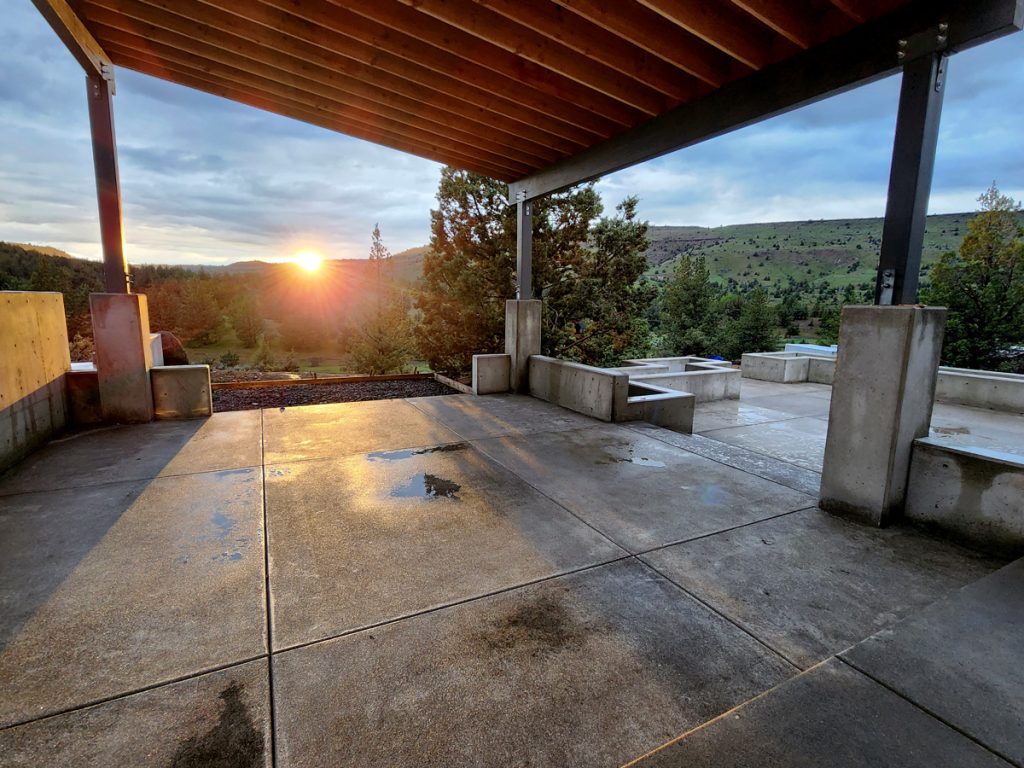 Projects
Or.concrete, Inc. has been fortunate to be included in many outdoor living space projects throughout neighborhoods like Tartan Druim in Tetherow of Bend, where developers and architects together strived to retain the land's native, natural beauty in an effort to preserve the natural setting for residents to view and enjoy. This provided a great opportunity for the development and refinement of outdoor living space ideas and popular themes that you recognize today, such as the Northwest Modern. Comprising decorative board-formed walls, firepits, and elaborate sand-finished staircases and flatwork, the Northwest Modern outdoor living space is a Central Oregon favorite that requires master craftsmanship, experience, and attention to detail that you can rely on us to provide.
Concrete Planters
Modern outdoor design has brought a new wave of interest in using concrete to create outdoor living spaces. Architects and home designers are enhancing modern interiors by extending concrete elements outside. When enhanced by stains and integral colors, concrete patios can be color coordinated to match a home's exterior or landscape. Concrete can also be stamped or engraved in patterns that mimic other popular paving materials, such as brick, flagstone, slate and tile. Decorative concrete stairs, retaining walls, fireplaces, fire pits and planters enhance the appeal of modern design in any landscape, all while providing a low-maintenance, long-lasting product.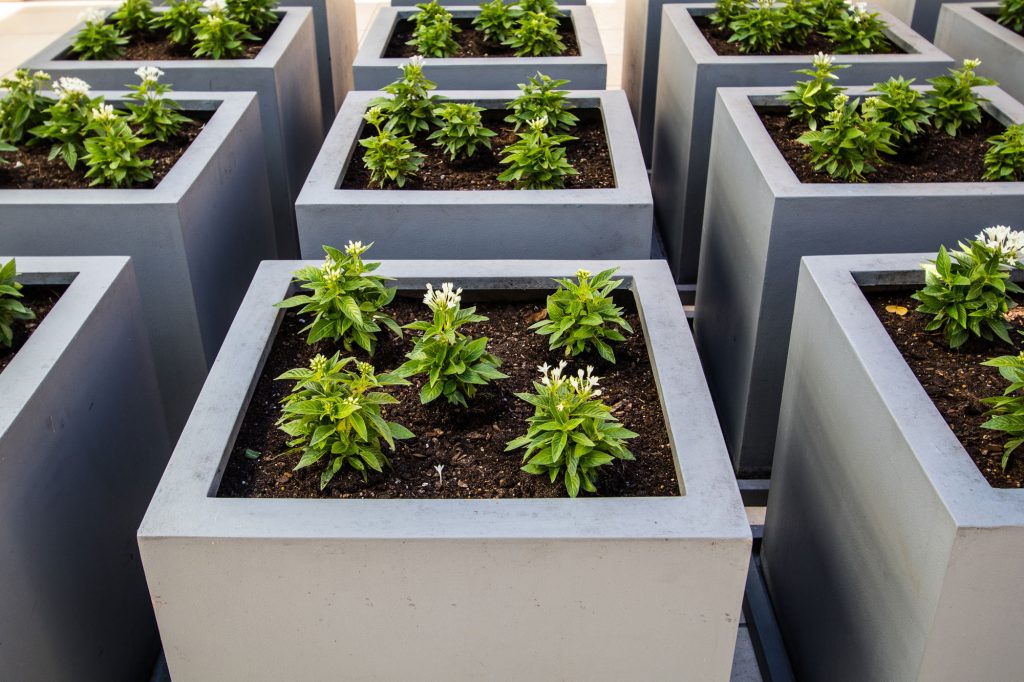 Outdoor Concrete Kitchens
Enhance your barbeque experience with guests and family with an outdoor kitchen. Typically built from concrete, outdoor kitchen are convenient and provide a summer place to relax and prepare food at the same time!
Small Residential Concrete Project
Concrete Fire Pit: This project was a small residential project located in Bend, OR consisting of multi-level decorative patios. The upper level was graphite color injected and a sand-finished surface. In contrast, the lower level was a stamped and acid stained interior field with a matching graphite color injected and sand finished border. The cantilevered edges of the graphite-colored upper patio and lower patio border were ground with a mild polish. The fire pit seating walls and fireplace were both board-formed and polished.
Fire Pits Light Up The Night
Whether you're hosting an outdoor party after the summer sun has gone down, or you want to snuggle up with your family and chat into the early hours, a fire pit is the ultimate focal point and creates an irresistibly ambient glow for a cozy evening outdoors. Not only does a fire pit provide warmth once the day's sun has gone down, it can change the aesthetics of your home and give your garden a wonderful warm glow. The most underused room in the house is often the garden, but when you have a fire pit, there's no excuse that it's too cold when you can sit next to those flames in the still of the night.